Purple Heron....6th for Berkshire
22 Oct 2002 | Fraser Cottington
I virtually began my birding at Dinton Pastures and have notes dating back to 1980, finding some good birds over the years, I had never found a 'staying' Berkshire rarity. With this in mind and based on the number of real rarities I have found in my past, anyone could say the dice had to fall my way in the end. On the day in question, I was not even there for bird watching reasons at all.
I had been collecting the weekly bird log sheets from the hide for a few weeks when I came up with the idea of designing a more clearly marked out form, in an effort to encourage sightings to be better documented. I had drawn up my new form to include the time of sighting, which lake etc and the recorders initials and telephone number to help verify records.
I had already been to Tern Hide on the Wednesday 3rd April and met Brian Bennett, counting and recounting the newly arrived Swallows. We noted how the water level had risen sharply and it was still raining hard, so very much expected the scrape to be flooded soon. I mentioned my new form and departed.
I was keen to get my new form to the hide but was busy all day Thursday the 5th and had already heard that the Emm Brook had burst its banks. I finally got to Sandford Lane at around 6pm, the light still adequate, noticing straight away that the road was impassable. I wanted the new form in Tern Hide, so I soldiered on, finding the water up to the top of my wellies well before the kissing gate, realising no-one could reach it without getting wet anyway.
I thought I'd try but everywhere was too deep. It the dawned on me, what would be the point in getting wet to put a form that no-one would see for several days and at this point went to turn back, but a crucial second thought made me turn around and proceed around to the right of the hedge instead.
I only took about 10 paces when, from ahead to my left a heron lunged out and began flying away from me, I paused, thought "that looks quite dark", raised my bins and caught a sideways glance at this dark heron as it disappeared left behind the trees.
From numerous experiences abroad, I instantly "thought that looked like a Purple to me" and briefly looking down at the wellie deep water, I burst into a frantic run back towards the 'kissing gate' and got quite soaked, arriving just in time to see the heron flying away and up towards the left of the main island.
I then spent something like 15 minutes negotiating the ditch and various other deep water areas, which ended up with me going in up to my waist in very cold water. Now I was wet I did not have to worry about it anymore and I proceeded to wade up towards where the heron had flown.
As I squelched along in the direction of Teal Hide I knew the trees on the lakeside to my right got more sparse and I looked across instantly noticing a heron resting on a bush overhanging the lake, I raised my bins and my eyes met with 'crippling views' of an immaculate adult Purple Heron and I can hardly describe the ecstasy I felt at that moment. The bird stood there for a seemingly long 10 seconds, then jumped off the branch and flew right, higher and over towards Sandford Lake. I thought two things, find it again and phone people. I ran towards the hedge and made my way through, over the much flooded Sandford Lane and in to Sandford Lake, at the same time phoning Trevor Guyatt and Brian Bennett.
My instructions were simple, come to Sandford, expect to get wet and you will see a Purple Heron...! I spent another hour getting wet all over again around Sandford and access was very restricted as well, I could not relocate it and had to leave. Frustratingly, the others had no joy either, so my fingers were crossed for tomorrow.
I arrived back at Lavells the next day at 7.30am after quite a frost which had made absolutely everything white, the receding flood water had frozen and left a thin layer of ice everywhere. I met Eddie Napper, Graham Walshe and Alan Woods who said some one else had seen it in flight at 6.30am. We walked around near Teal Hide and decided to head back to Tern Hide. As we walked past Jerry's bench, it suddenly flew in from our left, towards Tern Hide and we watched it glide over the lake and put down somewhere behind Tern Hide.
We all walked quickly but carefully around to the right of the hide, but staying way back by the dragonfly pond and found it straight away. It was hunched down at the base of a Poplar, where it stayed, hardly moving for nearly an hour, obviously warming itself in the early morning sunlight.
After about an hour it rose slowly and edged out in to the open and stood motionless in front of the gate, the flood water was barely ankle deep and was totally still and gave a picture perfect reflection of this immaculate bird. No one had a camera, but we were all chuffed to bits anyway!
Over the next hour we watched it preen, catch a vole and just settle in to its temporary home.
I stayed virtually all morning, with the news broken and confirmed, I saw over 30 people come and go, all very happy birders. I was busy for the remainder of the day but finally returned at 6.50pm, met more people I knew and gave the bird a glance and chatted away.
At 6.55 the bird let out a loud screech that sounded a little more 'gravely' than Grey, it jumped up, flew around, showing all present its beautiful under wing pattern and then proceeded to fly away, higher and higher towards Twyford or Sonning direction. It went out of view at 7.05 and as we all know, was never seen again!
I had no idea it was only the sixth county record and the first one anywhere in the UK that year, but either way, somewhere near a hundred local birders shared fantastic views of this normally very shy heron and we were further delighted with grateful peoples donations totalling £65.00.
We would like to thank all that donated money, and want all to know we have set up a fund and grant applications to further improve and expand our precious wetland habitats. If you would like to make a donation, or join Friends Of Lavells Lake and its Bird Information Service, so that you get a call next time something good turns up, please call me on 07810 585239. Thank you.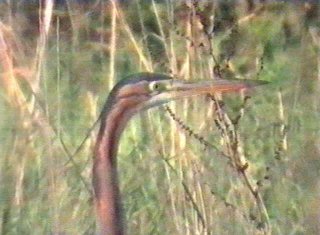 Purple Heron. Lavell's Lake. 6th April 2000. © Ian Lewington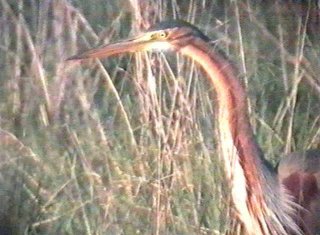 Purple Heron. Lavell's Lake. 6th April 2000. © Ian Lewington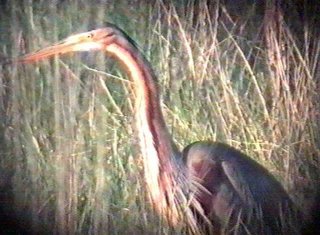 Purple Heron. Lavell's Lake. 6th April 2000. © Ian Lewington
© 2000 Fraser Cottington